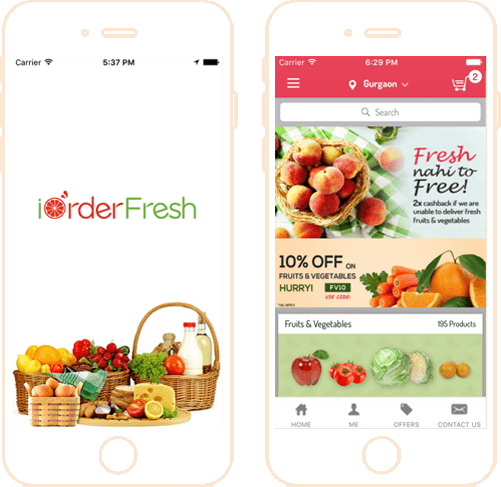 iorderFresh
By Supply Chain Analytics and Technologies Pvt. Ltd.
Doorstep deliveries of fresh food and groceries is now only a tap away. Order fresh fruits, vegetables and much more from any smartphone and get it delivered across Delhi and Gurgaon (More cities being added soon). Experience iOrderFresh…shopping for food and groceries will never be the same again!
View All
Dream Moods
By Dream Moods, Inc.
From the popular website, DreamMoods.com, comes the ultimate dream interpretation app to help you analyze the meaning of your dreams.
View All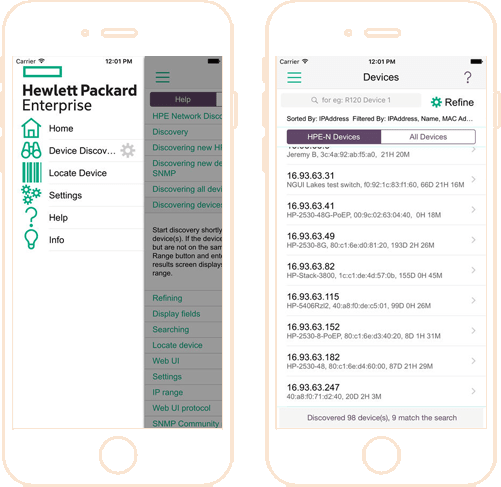 HPE Network Discovery
By Hewlett Packard Enterprise Company
The HPE Network Discovery Tool provides small and midsize businesses with fast visibility of HPE Networking and other devices on the network.
View All
About
Us
Starting a new business? Need an App for an existing business? Time is of the essence so don't wait, let's talk now!
There is a lot we can say, there is a lot we can show… We are what you need. We are the people who transform your ideas to reality, we cater to your needs and requirements, and we are the people who get what you need done. We are Apptology, a Dubai based customer centric software development agency. We are everything; Technology.
What We Do
We brainstorm your project idea, requirements and expectations strategy
Mobile Application Development

Apptology being a mobile application development company specializes in creating exclusive mobile apps by using Native and Hybrid platforms. Powered by well-versed developers, we use current trends to design mobile applications to provide rich and accurate content on a small screen, just like client wished, thus, creating an enriching brand experience.

Web Application Development

You can bring life to your revolutionary ideas of connecting consumers with your business. Every web app development project here is a result of massive research, analysis and a well- planned execution of- wireframes and navigation, technology planning, content development, and project launch. Let your concept and ideas combine with our efficient web app development techniques and experience the progress of your businesses.

Digital Marketing

Empowering our clients to convert their customers into loyalists and give the best ROI for their digital spends, is our art. We promise to deliver creative and result-driven solutions for companies ranging from startups to Fortune 500 and preparing them with products and services that prepare them for incremental digital economy.

Consulting

Real solutions are required for business challenges . Apptology acts as a catalyst to provide that extra edge to our clients in the competitive application development market. We function as a full business partner, offering tech and digital marketing solutions that build brand reputation. We expedite our client's most important goals and make lasting improvements to their performance.
Better Quality
The process our company follows and relies on, is continuous testing procedures, which means software bugs are discovered and fixed early on. To maintain the overall level of quality throughout the project lifecycle, each release is thoroughly tested, and customer feedback is carefully collected to enhance the next version.
100% Transparency
The ideology of our company is to provide customers with complete transparency, keeping them in the loop throughout the entire process of the project. You are in complete control and we are meager caterers to your needs, requirements and alterations for the app . We use tools like JIRA, Teamwork and WhatsApp to enhance communication with our developers and clients to keep them updated with the progress and development of their projects.
Business Value
Our team of developers follow a clear-cut feature centric methodology. We focus on the business-centric features which are critical for our clients and make sure their development happens first. Any sort of change request is handled effectively and immediately to provide the customers with expectations they hold and deserve.
Rapid Result
Today's world is an extremely fast paced one. With the rise in competition among software development companies and new business ideas, everyone is dancing to the tick of the clock. Our company's domain believes in rapid prototyping and emphasizes on an incremental software development process. The faster you plan, the faster we will transform your ideas into reality.
Garanteed Satisfaction
Every project comes with an added risk factor, whether it be iOS or Android or a website based. We believe in complete satisfaction and to make our customers happy. Our company offers a year's worth warranty on every contract we sign. This ensures the delivery deadlines, budget constraints and any defects will be dealt with and handled to our customer's satisfaction.
Our Technology Capabilities
PHP

C#

Visual Basic

Web Services

SQL

Azure

.Net

JAVA

AWS

iOS

Android

Xamarin

HTML

CSS

Ruby

Sass

angular.js

Node.js

Ajax

JavaScript

WordPress

CakePHP

CodeIgniter

MVC

Laravel

Symfony

Yii2

Zend

Magento

PhoneGap

Joomla!

Boonex
Which project management system is to be used?
We use and open a project in the Basecamp and Teamwork. Basecamp and Teamwork have a user satisfaction rating of 100% and 98%, respectively, which shows the general response they get from customers. Moreover, these software are the best option to get in touch with clients and solicit their comments regarding the solution in question.
What tools and techniques do we use?
We create apps on all app development platforms. We have experts as well as tool & technologies to for both Android app development and iOS app development. Our app developers also have experience in native app development tool & technologies like Java, Objective C, Swift, and C#. For cross platforms, we have developers with experience in cross-platform app development tool & technologies like PhoneGap, Titanium, Xamarin, Sencha Touch, Corona SDK, HTML5, CSS3 and JavaScript.
What methodology we follow?
Our methodology is transparent to the client. We follow Agile Methodology- promotes continuous iteration of mobile app development and testing throughout the software development lifecycle of the project.
Do we provide Graphic design and illustrations?
We can adopt your graphic designs or we can produce them as per your taste and inputs, we have our own graphics team. We understand your idea first and then transform it into wireframes. We proceed to designs only after you approve the wireframes.
What platform should you target- iOS/ Android or both?
Our mobile app development company has an experience of 10+ years. The answer depends on demographics, budget and speed of the two markets. Tech-Commercial expert of our app development company will first analyze few questions like:
In which demographics you want to launch the application first?
What is your budget for getting the application developed?
Which mobile platform targeting users are using most?
Based on the above answers you will be able decide which application you want to developed first.
Our experience tells that most of the European & American clients get the iOS apps developed first; whereas Asian region clients get the Android apps developed first.
Do we support iPad version for iOS and tablet version for Android?
Almost all the iOS applications and Android applications works on the iPad and Tablet; but if you have any specific requirement, budget & market base then you can get the separate application developed for iPad or Tablet. Mostly the business related users or executives are finding it handy to have the iPad / Tablet app version since they want to represent something in meeting because of size. If your mobile application needs to address those users then our suggestion is to have separate app version.
What is difference between Cross platform development vs Native App development?
Our app development company, we do not lt our clients to get confused because of the differences between Cross Platform and Native app development. When a project requires extensive data processing and, therefore, intensive use of the device's memory, the most obvious option is for the members of the team to choose a 100% native development. Cross-platform technology provides a framework where one source-code can be utilized to create the multi-platform application; mainly for iOS & Android. Compared with the obvious benefits offered by a native application, web project encapsulating solutions or cross-platform applications considerably shorten development and deployment times at app stores. There are therefore fewer costs and the risk of opting for projects that will fail is lower.
How can you make your app successful?
To make your mobile application a success - you must have to review again with what purpose you got the application developed? Have you chosen right mobile app development company? Do you have enough funding to manage the solid marketing? Do you know your target audience iOS - Android - or both? Do you want iPhone app development or Android app development? Have you hired skilled app developers for your app?
If you have above answers then based on the answers you can prepare the action plan and reach to the end-users.
You are a non technical person with an app idea. How can our mobile app development company help you?
It is not an issue at all. We are virtuous to both technical and non-technical clients. We do have worked with many non-technical clients in past and have helped each of them by successfully implementing their apps, from figuring out the idea to publishing it on stores.
You can share each drop in your mind with our project managers, app developers; they will suggest you from technical perspective and even what approach we should proceed with for the best output.
How do we communicate with International Clients?
We are available on Webex calls or Skype calls. The development hub of our mobile app development company is based in Delhi-NCR, India but we have branches in USA, UK, UAE; so we know how to share words with our international clients.